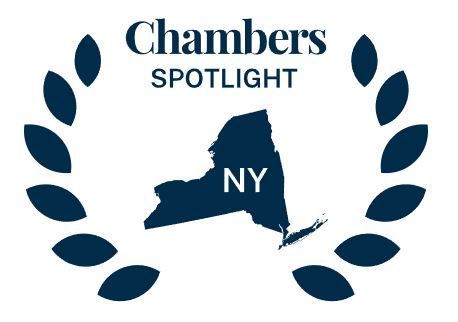 VMM is proud to announce that Chambers, the world's leading legal rankings and insights intelligence company, has named it to the inaugural Chambers USA Regional Spotlight NY 2024, a listing of the best small and mid-sized law firms in New York.
The London-based Chambers and Partners is considered the legal profession's gold standard business-to-business (B2B) legal directory, operating across 200 jurisdictions worldwide. Traditionally focused on "BigLaw" and corporate law firms, Chambers USA's inaugural Regional Spotlight Guide "focuses on the top end of the legal market" at a regional rather than national level, "recognizing firms that are well-known for their expertise in certain selected practice areas...at a city-based level in states across the US...that can offer go-to counsel for legal buyers looking for more options and local expertise."
Vishnick McGovern Milizio is the only law firm on Long Island recognized in the area of Trusts & Estates. It is also one of just 105 firms across the state to make the elite listing, out of an estimated 32,870 firms and solo practices.
"It's an immense honor to be recognized as a leader in our field by Chambers," said VMM managing partner Joseph Milizio. "We've always prided ourselves on our uncompromising service to our clients, whether they're young parents who need a simple estate plan or a large company in need of corporate governance guidance. Being selected to the Chambers New York guide just proves to me how talented and dedicated our team is, and most importantly—how satisfied our clients are."
More information on the Chambers USA Regional Spotlight Guide 2024 can be found here. Long Island rankings can be found here, and VMM's spotlight here.
Last week, Best Lawyers' Best Law Firms (formerly U.S. News & World Report - Best Lawyers), the authoritative US directory, named VMM among the "Best Law Firms in America" for the third consecutive year.