New York Elder Law Attorney
Elder Law Firm In Oakhurst, Lake Success, & NY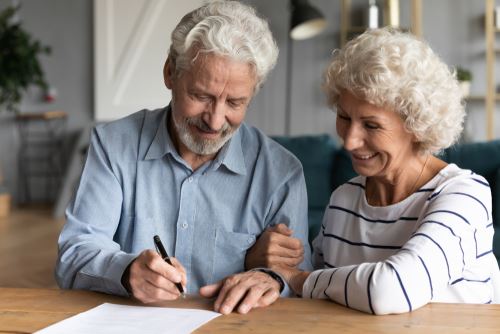 Since 1969, we at Vishnick McGovern Milizio LLP have helped individuals and businesses resolve a wide range of legal matters. Our team of attorneys has a proven track record of success made possible by our unwavering pursuit of legal excellence.
As a full-service law firm, we hold ourselves to the highest ethical standards and handle every matter in our care with enthusiasm and conviction. We have a reputation for delivering personalized legal services with a laser-focus on the goals and well-being of our clients. Regardless of the complexity of your matter, we wish to extend our legal services to you.
Our litigators in NY and NJ are available to help you with all elderly law matters. Call us at

(516) 437-4385

today!
What Is Elder Law In New York?
Elder law covers a variety of legal matters concerning the elderly. The state of New York considers individuals elderly if they are over the age of 65. The legal matters that affect the elderly population are complex and regulations depend from state to state.
General elder law matters may include the following:
Long-term care and assisted living
Health care management
Tax management
Retirement benefits
Guardianship, conservatorship, and commitment matters
Estate planning and administration
Government benefits (including Social Security, Medicaid, and Medicare)
Inheritance matters (including wills, trusts, and probate)
Our team of elderly law attorneys has helped numerous individuals with issues such as inheritance, taxes, retirement benefits, assisted living, and so much more. Take a look at our client testimonials and see why we are the most trusted elderly law firm throughout Oakhurst, NJ, Lake Success, NY, and the surrounding areas within New York and New Jersey.
Securing Your Family's Future In New York
Having a reputable lawyer to help guide and support you with matters regarding elderly law is critical for protecting your future, as well as the future of your family. Our elderly law attorneys in New York and New Jersey are available to help answer any questions that you have regarding health care management, inheritance matters, estate planning, and administration, retirement benefits, assisted living, and more.
Having access to objective legal advice is essential for ensuring that you are properly informed about issues regarding elderly law and that you know all of the available options to you. Knowing your options can help you make decisions that you feel secure and happy with. Let our elderly law attorneys help you in Oakhurst, NJ, Lake Success, NY, or the surrounding areas. Contact us today to learn more about how we can help you with all elderly law issues that you may be struggling with.
Suggested Reading:
Call our New York and New Jersey litigators today at (516) 437-4385 or contact us online.