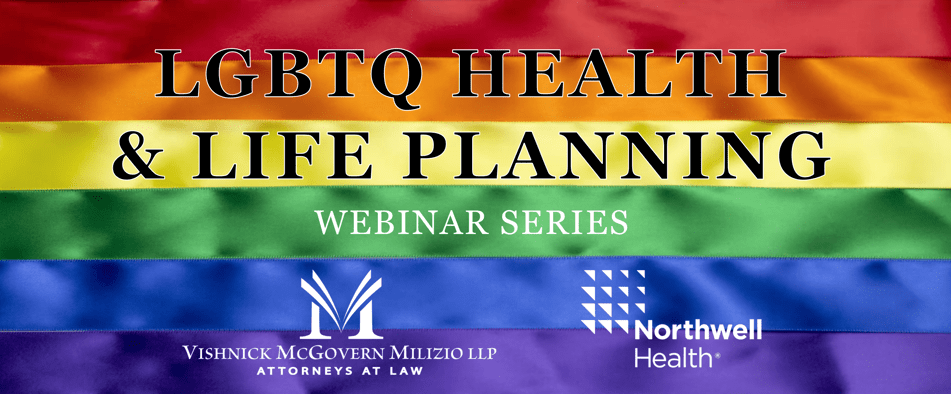 VMM is proud to announce our new LGBTQ Health & Life Planning Webinar Series, in collaboration with Northwell Health.
The webinars are led by managing partner Joseph Milizio, head of the firm's LGBTQ Representation practice, and Dr. David Rosenthal, Medical Director of the Sexual Health/HIV/PrEP/STI Program at Rego Park and the Center for Transgender Care in New Hyde Park.
Some webinars will include additional speakers from VMM and Northwell Health.
All webinars are live and include a Q&A section. They are free of charge and hosted on Zoom.
In addition, we are pleased to announce the establishment of a joint VMM-Northwell Health Trans Clinic, designed to inform and assist transitioning persons and their families with medical and legal matters. The clinic is expected to begin in July, conditions allowing.
Topics, Dates & Times (all Thursdays, 5–6:30 pm EST)
April 15: LGBTQ health and HIV PrEP & estate planning
June 3: LGBTQ health and HIV PrEP & estate planning
June 10: Trans health & LGBTQ representation + estate planning
June 17: LGBTQ fertility & surrogacy, adoption, and assisted reproduction + family law (featuring Dr. Randi Heather Goldman)
July 8: Trans Clinic (tentative, details to be announced)
Additional dates will be announced in the summer.
Make sure you are notified about these and other webinars by signing up for our mailing lists.
For any questions, contact us.
About Joseph Milizio
Managing Partner Joseph Milizio leads VMM's Business and Transactional Law, Exit Planning for Business Owners, LGBTQ Representation, and Surrogacy, Adoption, and Assisted Reproduction Practices. He is a key member of the VMM Family InstituteSM and COVID-19 Legal Assistance Practices.
Mr. Milizio founded the firm's groundbreaking LGBTQ Representation Practice over 15 years ago, one of the first in the nation. The practice provides legal counsel, representation, and education to the LGBTQ community in a variety of matters, including workplace discrimination, estate planning, health care proxies and living wills, prenuptial agreements, real estate, domestic partnership agreements, property co-owner agreements, spousal rights and obligations, divorce and child custody, adoptions and surrogacy, name changes, and gender marker changes.
​About Dr. David Rosenthal
David Rosenthal, DO, PhD, is an Allergy and Immunology and Internal Medicine specialist at Northwell Health. He is the Medical Director of the Center for Young Adult, Adolescent and Pediatric HIV; Center for Transgender Care; and Sexual Health/HIV/PrEP/STI Program at Rego Park. Additionally, he is an Attending Physician at the Division of Allergy/Immunology and Adult, Adolescent and Pediatric Allergy and Clinical Immunology. He is an Assistant Professor of Medicine and Pediatrics at the Donald and Barbara Zucker School of Medicine at Hofstra/Northwell.