VMM managing partner Joseph Milizio received on Wednesday a Citation from the Nassau County Executive and a Certificate of Achievement from the Suffolk County Executive for his pro bono and community involvement work.
Nassau County Executive Laura Curran presented Mr. Milizio with the Citation in recognition that he "has worked diligently on behalf of causes and ideals which uphold the principles of human decency and brotherhood" and has "demonstrated a selfless commitment to the County of Nassau and its residents."
Suffolk County Executive Steven Bellone awarded the Certificate of Achievement in gratitude for "making a meaningful difference in our communities."
Both honors were awarded following Mr. Milizio's recognition as the Top Lawyer of Long Island in the Pro Bono category for his counsel, representation, volunteerism, and support of LGBTQ organizations and causes.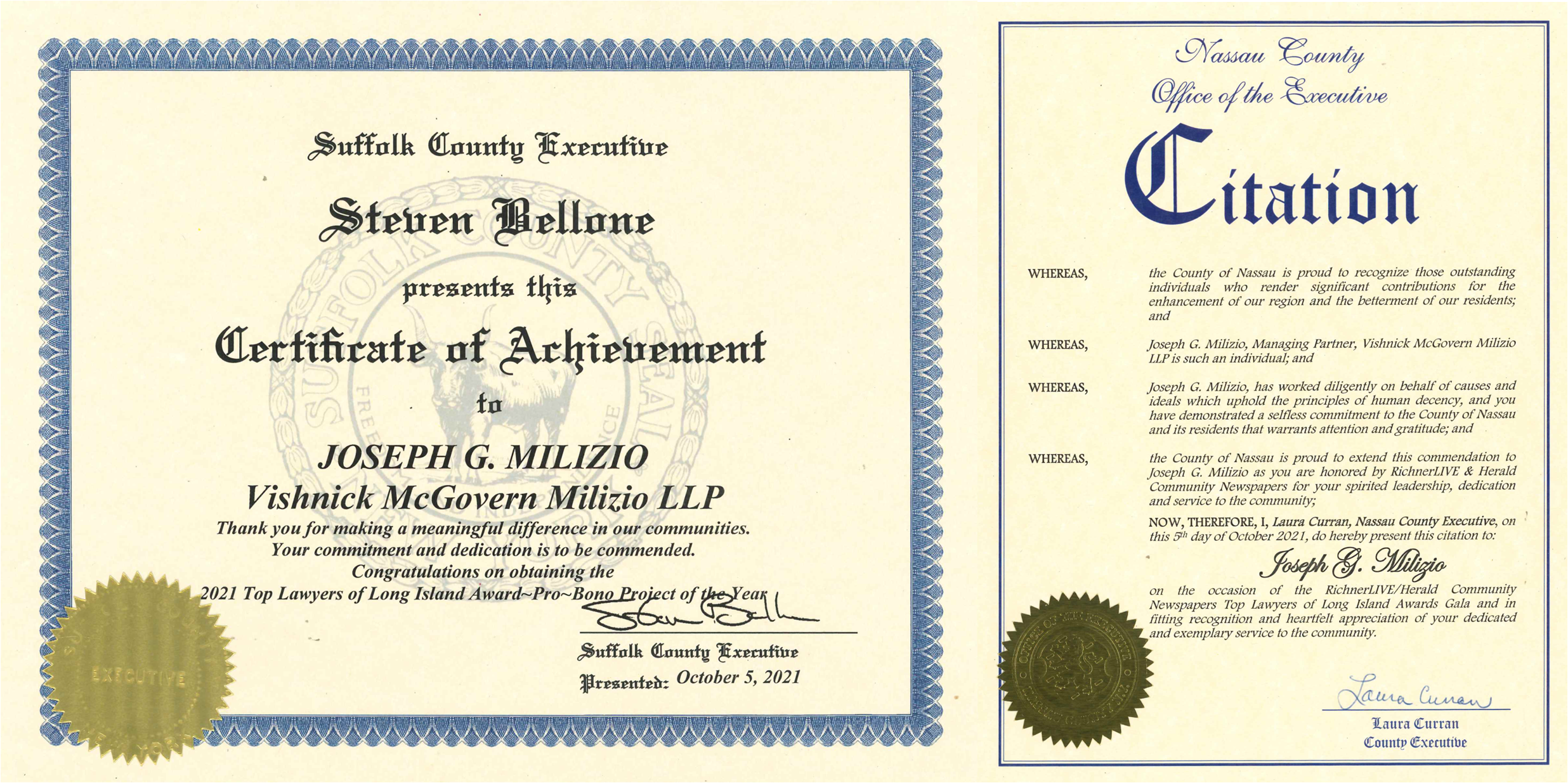 This marks the second time Mr. Milizio receives a Nassau County Citation. It follows a spate of other awards and recognitions, including Crain's New York Business 2021 Notable LGBTQ Leaders and Executives, Schneps Media 2021 Power Lawyer, and most recently a Special Congressional Recognition.
Mr. Milizio founded VMM's groundbreaking LGBTQ Representation Practice nearly twenty years ago, one of the first in the nation. The practice provides legal counsel, representation, and education to the LGBTQ community in a variety of matters, including workplace discrimination, estate planning, health care proxies and living wills, prenuptial agreements, real estate, domestic partnership agreements, property co-owner agreements, spousal rights and obligations, divorce and child custody, adoptions and surrogacy, name changes, and gender marker changes.